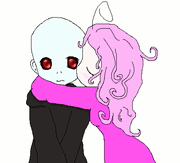 Cuddlemort is the ship of Voldemort/Cuddles.

This couple first meets when Cuddles is a bad Dementor, but their relationship does not enter the roleplay until Voldemort tortures Cuddles in the Forbidden Forest, forcing her to heal her soul.
Later Cuddles ends up kidnapped by Voldemort, they have sex, and Cuddles becomes pregnant.
While Voldemort treats Cuddles as a possession she genuinely falls in love with him.